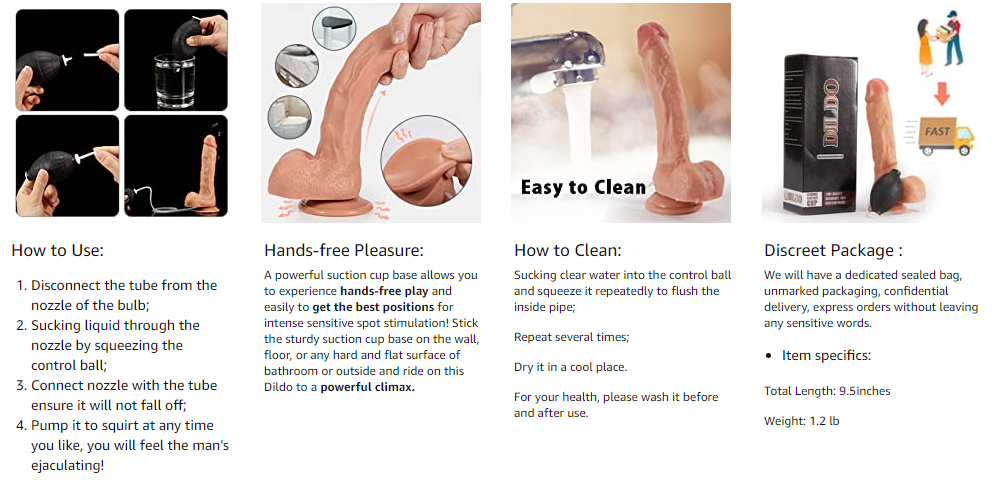 9.5-Inch Squirting G-spot Ejaculating Dildo with strong suction cup
Features:
Satisfying enough, essentially the largest squiring dildo on the marketplace;
Ribbed sleeve with cherry glans and tensile balls, much like the genuine thing;
The ejaculating design gives you a genuine sense;
A strong suction cup aids in easy inserting.
Description:
You can attach this wonderful dildo to a chair using the strong suction cup. Reaching between your legs, situate yourself beyond this lifelike but larger cock, and lower yourself till you feel the head push against your entrance. Relax your shivering legs so the attractive head may enter. Insert the entire 9.5″ into your lonely body, and you'll groan loudly with your motion and the unrivaled pleasures. As much as you want to relish the thrusting, you are starving. As a result, you may squeeze the control ball to sense the warmth strike your uterus, providing both physical and emotional delight.
Specifications:
Size: 9.4 x 6.4 x 3.1″
Weight: 2.45lb
Water capacity: 56ml
Package Included:
1 x dildo
1 x control ball with tube
9.5-Inch Squirting G-spot Ejaculating Dildo with strong suction cup
9.5-Inch Squirting G-spot Ejaculating Dildo with strong suction cup